Guest Accolades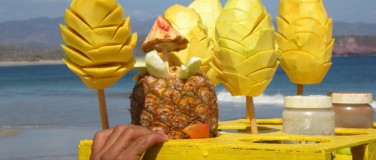 Fodor's Review


A friendly couple of American expats (he's a former Eastern Airlines pilot) own and run this charming cliff-top hideaway with a drop-dead gorgeous view of the ocean and Boca de Iguana Beach below. The furniture is stylish, and homey touches like lamps and fish-theme wall decorations make the snug apartments just right for holing up for a week or even a month. The two apartments upstairs, with thatched roofs and kitchen and living room open to the elements, are not usually available in summer due to the rain; the rest of the year they're highly coveted. One has an outdoor shower with a view.
Getting Here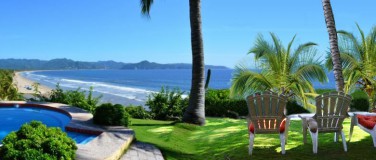 Coconuts by the Sea is located on the beach in Boca de Iguanas. The Manzanillo airport (ZLO), officially the Playa de Oro Int'l Airport, is only 40 to 45 minutes south of Coconuts by the Sea. A number of airlines offer daily service to ZLO during high season (December- May). During low season, most carriers reduce service to ZLO.
If you are driving from Manzanillo, we are a few minutes north of Isla Navidad, Tamarindo, Barra de Navidad, Melaque, and La Manzanilla.